City wants to prevent sidewalk parking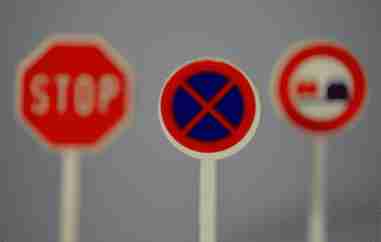 In Bogenhausen and Berg am Laim, no-stopping signs have suddenly appeared in streets where residents previously parked - mainly half on sidewalks. In some streets in the east of Munich (for example around the square Gebelestraße/Niedermayerstraße/Amberger Straße in Bogenhausen), more than half of the parking spaces can no longer be used.
CSU City Councilor Fabian Ewald has now made the issue the subject of a question to Mayor Dieter Reiter (SPD). "Hundreds of no-stopping signs are currently springing up in residential areas. Instead of intelligently defusing known bottlenecks, parking spaces are being eliminated in entire streets, even if no major problems were known there so far," says Ewald. In residential streets, partial sidewalk parking had been tolerated practice for decades, the CSU member said.
Controversial sidewalk parking: City issues stopping bans
The stopping bans now caused consternation, especially among residents, as they would now have to drive through the neighborhood to find a parking space. "This has nothing to do with a sensible traffic policy. We demand clarification about the extent and the reasons for this action," said Ewald.
He now wants to know from the administration, among other things, in how many streets these stopping bans have been set up and why the previous practice of tolerating sidewalk parking is being abandoned. The "Bild" said the transport and mobility department had noted that in the neighborhood around Ortnit and Grosjean streets, residents had complained about blocked sidewalks and that these parking spaces had never been legal anyway. However, the department is currently working on a draft resolution on how to deal with sidewalk parking in general. One way or another, the matter will become a topic of discussion in the city council.


Image by Alexandra from Pixabay