Interros proposes to reduce Norilsk Nickel dividend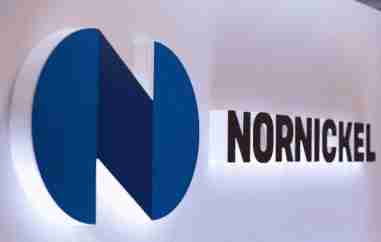 Interros, Nornickel's largest shareholder, has proposed changing the metal miner's dividend policy prior to the expiration of the current shareholder agreement in 2023 and paying 50-60% of free cash flow in dividends, Interros said in statment.

Interros holding, controlled by businessman Vladimir Potanin, aluminum producer Rusal and some other interested parties have a dividend agreement, according to which Norilsk Nickel pays them dividends twice a year. The deal expires on January 1, 2023.

Interros also proposed to minimize the final dividend payment to Norilsk Nickel for 2020.
"We are in favor of a more adequate proportion between dividends and investments in the development of the company," Sergey Batekhin, CEO and Head of the Management Board of Interros, said in a comment to the Russian Interfax news agency. Under the current formula, Norilsk Nickel will need to borrow in order to pay dividends and support the investment program, Batekhin explained.
Interros proposes to change the policies of dividents from 2019, when the Potanin first announced a similar statement.
Interros is also against the conclusion of a new agreement of Norilsk Nickel shareholders after the expiration of the current agreement in 2023 and insists that the mining and metallurgical giant return to the classical management model.
"Interros also believes that the withdrawal from the agreement after 2023 will not negatively affect the management of Norilsk Nickel and hopes that the majority of shareholders will support these proposals," the company said in a statement.
Also, Interros considers the optimal payment to be at the level of 50-60% of free cash flow and Interros has no plans to increase its stake in Norilsk Nickel, the company said in a statement.  The company is urged to change its dividend policy in the Kremlin as well.
"It is necessary to prepare a system of measures to stimulate the company to direct its profits to finance investment projects in Russia," said Russian President Vladimir Putin, quoted on the Kremlin's website.
Norilsk Nickel recently paid Russia $ 2 billion in environmental damage from last year's fuel spill at its Arctic power plant.
MMC Norilsk Nickel is a diversified mining and metallurgical company, the world's largest producer of palladium and high-quality nickel, as well as the largest producer of platinum and copper. The company also produces cobalt, rhodium, silver, gold, iridium, ruthenium, selenium, tellurium, sulfur, and other products.
The production facilities of the Norilsk Nickel Group are located in the Norilsk industrial region, on the Kola Peninsula and in the Trans-Baikal Territory in Russia, as well as in Finland and South Africa.