Marina von Stroganoff showcases the world of swing and jazz
Expressive whilst at the same time delicate, Jazz singer Marina von Stroganoff stylishly brings swing and jazz back to stage. Together with the SWS Big Band, she recently brought to life her repertoire of characterful and sensitive sounds.

Concerts by the native Latina Marina von Stroganoff, held in the cultural center "Goldene Sonne" in Schneeberg in early November, showcased the diversified repertoire of the singer and that jazz and swing still have their own unique charm. Together with the SWS Big Band she tours regularly and rejuvenates the genre by bringing the swing back on stage. A musical direction that, after its revival, excites passion in the hearts of music lovers. Contemporary dance music, coupled with the exhilarating voice of Marina von Stroganoff and the musical support of the Big Band, will become a unique event at every concert.

On the international stage, Marina von Stroganoff toured with the Rigaer Ensemble in countries such as Denmark and major cities like London. Since the world is not only the stage, Marina von Stroganoff is involved in various cultural institutions and clubs. She has been a self-confessed lover of culture since early childhood. Dance, music and drama were her three main components of interest. During their concerts in Germany and the rest of Europe, these three elements were combined to produce an outstanding testament to the spirit and soul of her performance, and one which the audience truly appreciated.

In her chanson program "Diven", Marina von Stroganoff presented her interpretations of the classics of Edith Piaf, Zarah Leander, Hildegard Knef, and others, displaying the breadth of her repertoire and ability. She can be seen and heard on various public occasions with the SWS Big Band as well as as a solo artist, but can also be booked for private occassions. With their experience and skills, Marina von Stroganoff has access to a wide range of German and international songs that fit every event.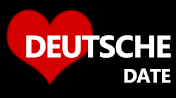 DeutscheDate is a new
German dating site
for professionals in Germany. No monthly fees, no minimum subscription period, no contracts, no tie-ins. Just a clean, simple, easy-to-use dating site for serious relationships.