After a couple of Christmases here in Munich, I began to miss things from home that I'd never even particularly liked before, Christmas Pudding being one of them. I thought I would try to make one, and apart from being time consuming, it really wasn't that difficult. So I began a new tradition in our house which is now an essential part of our Christmas lunch. All the ingredients listed are easily available from most supermarkets here, the only fiddly thing is the bowl or pudding basin. I ordered one online, but any heatproof bowl will work, one with a lip round the edge will be easiest to fix the foil lid on the top.
Christmas Pudding
125g grated butter
125g brown sugar (any kind will do)
350g mixed dried fruit, large pieces like figs, prunes or apricots should be chopped into raisin sized bits. I use cranberries and sultanas too.
50g candied orange peel (orangeat)
100g chopped almonds
2 teaspoons mixed spice ( a packet of lebkuchen gewürze works well)
grated rind of one orange
125g fresh white breadcrumbs
70g flour (typ 405)
2 large eggs
75 ml milk
150 ml brandy
About 2 days before you want to cook, take the dried fruit and mix with about 100 ml of the brandy and leave to soak for a day or two. Stir around every so often to make sure all the brandy is absorbed.
On the day you want to cook the pudding, mix all the ingredients, except the remaining brandy, in a large bowl till well combined. Grease a heatproof, pudding shaped bowl, or christmas pudding mold and fill with the mixture. Smooth the top down and cover with a circle of greaseproof paper (backpapier). Make a lid for the top of the bowl with two layers of foil and tie tightly with string to stop water leaking into the pudding.
This year for the first time I cooked the pudding in the slow cooker for 10 hours on high, which was much easier than the traditional steaming in a pan of water for 8 hours. First boil a kettle full of water, put the pudding in the cooker, and pour in the water until it comes halfway up the outside of the pudding bowl.  After the slow cooker lid is on, the water wont boil dry, so it can be left unattended until the time is up.
 When the pudding is cooled, drizzle with the remaining brandy, re-cover and store in a cool place until Christmas. It´s traditional to make a Chrsitmas pudding at the end of November to give it time to mature. On the day it will need about 3 more hours to heat up in the slow cooker before you want to eat it.  I serve it with brandy butter, whipped cream or vanilla ice cream.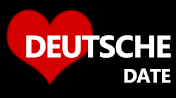 DeutscheDate is a new
German dating site
for professionals in Germany. No monthly fees, no minimum subscription period, no contracts, no tie-ins. Just a clean, simple, easy-to-use dating site for serious relationships.